The structure of an aluminium industrial door with glazing is made of galvanized aluminium or steel elements. The door curtain is made of a galvanized steel panel, installed at the bottom part of the door. The aluminium panels with glazing, which are installed over it, ensure the access of daylight in the premises. Transparent elements of panels are made of polycarbonate. Industrial aluminium doors are made to fit any dimensions –up to max. 5 m width and 5 m height.
The springs are regularly set for 25,000 thousand cycles with the possibility of changing into 50,000 thousand cycles. 2 to 4 torsion springs are installed in the doors – depending on the door size.
The standard equipment includes the following: aluminium panels with glazing (anodized aluminium), the bottom section panel – steel panel PPp (white, brown), sealing around the entire panel, a bolt, a set of vertical and horizontal tracks, a shaft with torsion springs, fittings, hinges, rollers, a wire or spring break protection system. The door control may be performed manually or automatically. Aluminium industrial doors with glazing may be additionally equipped with a service door, enabling the access without the need to open the whole door.
Panel colour range
Bottom steel embossed DK-PPp panel:
Aluminium panel with glazing:
Panel parameters
Structure of embossed DK-PPp panel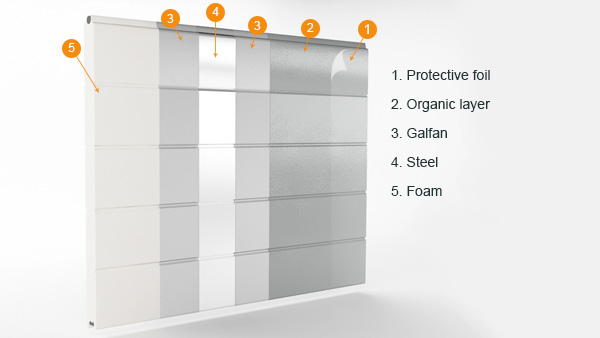 DK-PPp panel is made of galvanized steel covered with polyester lacquer. The panel is filled with polyester foam and is installed as the first element from the door bottom. The panel height is 500 mm or 610 mm and the width is 40 mm. The panel has a"Stucco"finish structure both in internal and external side.
MFZ automatic control
We offer three versions of industrial door drive control.
Standard equipment
We offer a wide range of elements that enhance the functionality and visual aspect of the industrial doors.
Extra equipment
Apart from standard equipment, we offer elements of extra equipment for industrial doors.
Gallery