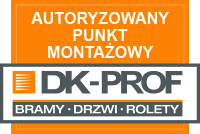 One of the key points of the DK-PROF's policy aiming at increasing the Customers' level of satisfaction is to implement an uninterrupted training programme developed for our Trading Partners. The programme includes two types of training: one focussed on product and the other on assembly. Product trainings aim at thorough familiarization with the DK-PROF's offer, news introduced to the market and technical solutions applied in the products. Whereas the assembly training bases on practice, and its main purpose is to improve Trading Partners' skills in assembly of garage doors, exterior roller blinds and other DK-PROF-manufactured items. Both, the product and assembly trainings are being carried out throughout the whole year and their dates are adjustable as per the Trading Partners' needs.
In appreciation of knowledge and commitment of assembly teams that provide faultless assembly of garage doors during the training, the DK-PROF Company grants them the DK-PROF Authorised Assembly Centre Certificate. This certificate proves professional approach and provides guarantee for faultless operation of DK-PROF's garage doors and exterior roller blinds, which is of extreme importance for the end-users.
Our experience shows that properly delivered garage doors assembly directly translates into improving reliability, and in result, reduces number of warranty claims concerning the doors' operation. Therefore, we put an extra pressure onto assembly trainings. Our Partners can also rely on our expert support and rich collection of training materials in both, hardcopy and video versions." – says Jarosław Skoczeń, Sales Development Manager at DK-PROF.
At the upcoming assembly training, the TOM-ZAUN Company from Kostrzyn nad Odrą will have chance to assemble a sectional doors under the supervision of the DK-PROF's experts. Properly delivered assembly shall result in obtaining the DK-PROF Authorised Assembly Centre title. This title is to be confirmed with relevant certificate.
We invite all our Trading Partners interested in obtaining the DK-PROF Authorised Assembly Centre Certificate to send their requests and approach door assembly on their own at our training sessions.