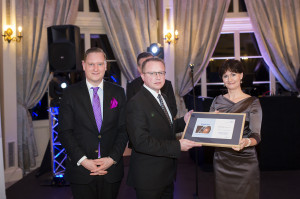 The Master of Innovation statuettes, diplomas and prizes were presented to the winners by Sofie Winkhaus and Tilmann Winkhaus – owners of the Winkhaus Group.
On the 6 th November 2014 the award ceremony was held for the prize winners of the 5th Master of Innovation contest, organised by WINKHAUS. Entrants in the contest were manufacturers and distributors of fenestration joinery from all over Poland.

Master of Innovation is a competition which rewards companies promoting WINKHAUS's innovative solutions on the market. This year's contest was concluded by a gala ceremony at Tłokinia palace near Kalisz.
Awards for propagating innovative door locks with autoLock AV3 and blueMatic EAV3 electric locking in this year's contest went to DK-PROF. The commemorative diploma was collected on its behalf by the Manager of the Sales Development Department Mr Jarosław Skoczeń.
"Innovation is one of our company's priorities, so this award in the Master of Innovation 2014 contest pleases us enormously. We are developing and extending the innovativeness of our products, and our collaboration with WINKHAUS plays a major role in this," says Jarosław Skoczeń , Manager of the Sales Development Department at DK-PROF.
"The WINKHOUSE door locks with electrical locking, which we received the award for promoting, are applied successfully in the aluminium exterior doors sold by DK-PROF. The doors are characterised by their modern style and excellent insulating properties which, combined with advanced technological solutions, means products of the highest quality," adds Jarosław Skoczeń.