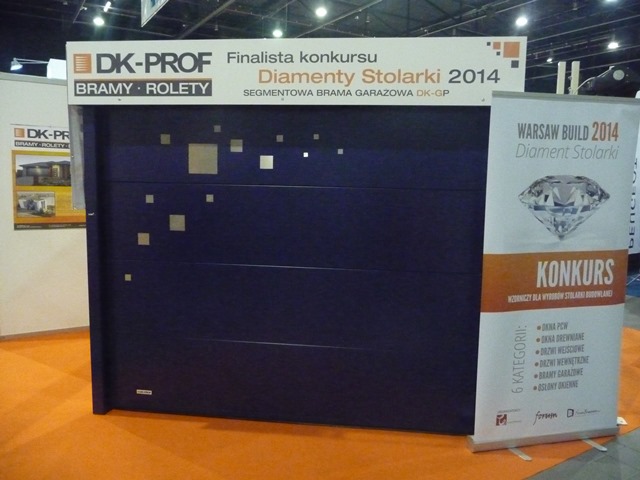 DK-GP Sectional Garage Door by DK-PROF won Polish nationwide competition for the best doors and windows designs "Joinery Diamonds 2014″ in Garage gates category. Announcement of the results and awarding of the prizes took place on 19 September 2014 during the Warsaw Build Exhibition in Warsaw.
"Joinery Diamonds" is a yearly competition which assesses product aesthetics and functional properties. DK-GP garage door met the competition requirements perfectly. Colour combinations of bright decorative elements and dark background, made the DK-GP door look intriguing, which attracted numbers of visitors.
At the "Joinery Diamonds" competition award ceremony DK-PROF was represented by Mr. Maciej Kowalczyk, DK-PROF Regional Manager for central Poland. Receiving the award, Mr. Kowalczyk acknowledged organizers and gathered public for the distinction, providing a brief presentation of DK-PROF achievements and successes. "This distinction in the Joinery Diamonds competition is confirmation of high quality of our products, which is based upon both their excellent technical parameters and care for the design" – said Maciej Kowalczyk.